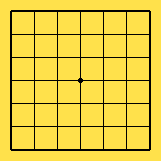 Go is played on a square board consisting of any number of crossing lines. The usual board sizes are 9×9, 13×13 or 19×19 lines, the latter being the official tournament size. To explain you the rules of the game we will use a 7×7 board since that will be more than sufficient for this purpose. You start the game with an empty board. The dark spot in the middle of the board is useful for orientation but also used as indicator.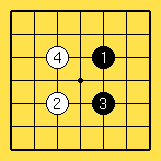 A Go move is played on the intersections of the lines. This is different from what you are used to from other games like chess and checkers. In the figure we show you the first four moves of an instruction game. The moves are numbered to indicate the order in which they were played. That's right, in Go the black player moves first! Another legal move, hard to display in a figure, is pass. When both players pass the game is finished.


Dia 1-1: Black plays 1 



Dia 1-2: and captures. 



Dia 1-3: While capturing…
During a Go game one or more stones can be captured by completely surrounding them, i.e. filling all empty points around them. We show two examples: on the left a one stone capture, on the right a three stone capture. Once black has played 1 he removes the captured white stones from the board leading to the 2nd diagram positions.


Dia 2-1: Black plays 1 



Dia 2-2: and captures! 



Dia 2-3: While capturing…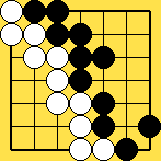 The purpose of Go is to conquer a larger part of the board than your opponent. The conquered part exists of the stones placed on the board plus the stones which could be added safely, i.e. inside your own walls. The figure shows a final position. The score for this game would be: black has 11 stones on the board and could add 16 stones inside his own walls, white has 11 stones on the board and could add 11 stones inside his own walls, so the score is 11+16 – 11+11 = 5 points for black. Black won this game.


Dia 1: Black to move in this position…
But now it's white's turn…


Dia 6: Endless…


Dia 2: Would he decide to capture one white stone…


Dia 4: White could decide to capture one stone…
You get the picture: this process could repeat itself endlessly. To avoid this to happen the game has a special rule, the ko (Japanese) rule. The ko rule prohibits that the same position (i.e. the whole board!) repeats itself.


Dia 3: It would lead to this position…


Dia 5: Leading to the position of dia 1…