The 17th International Istanbul Go Tournament
Welcome to the official page of 17th Istanbul International Go Tournament that will be taking place on 30th September – 1st of October 2017.
The pre-registration will be open until 27th September 2017 23:59:59. Even though it is possible to register at the tournament place on 30 September 2017 09:00 am, we recommend you to complete the pre-registration before this date.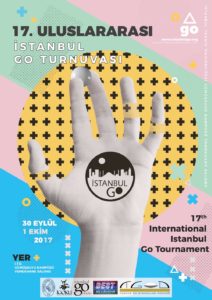 Tournament Sponsors
Venue
This year, 17th International Istanbul Go Tournament will be held in İTÜ Gümüşsuyu campus with the collaboration of IGOKU.
You can reach to the campus easily by walking from Taksim or Kabataş. It is located in Gümüşsuyu Avenue.
Weather Forecast
Will be available 5 days in advance.
For information in detail, please click this link : http://www.dmi.gov.tr/
Accommodation & Catering
If you need an accommodation,
In the pre-registration form, If you tick "Do you need accommodation?" section "Yes",  we will provide you a host  that will be glad to entertain you without our pressure.
Tournament Rules
Tournament Coordinator: Ertuğ Akkol
Appeal Board :
Referees : 
Pairing Operator : Emre Kovancı
Pairing system: McMahon
Game rules: Japanese rule set, no handicap
Time: 60 min. + 25 moves / 10 min. Canadian overtime
Komi: 6.5
As an EGF Super Tournament the 17th Istanbul International Go Tournament is bound by the following rules and regulations:
Tournament Schedule
30 September (Saturday)
08:30 – 09:00 : Registration Complete
09:45 – 10:00 : Opening and Pairing
10:00 – 12:30 : Round 1
12:30 – 13:30 : Lunch Break
13:30 – 16:00 : Round 2
16:00 – 16:15 : Break
16:15 – 18:45 : Round 3
01 October (Sunday)
11:30 – 13:30 : Round 4
13:30 – 14:30 : Lunch Break
14:30 – 16:30 : Round 5
17:45 – 18:30 : Award Ceremony and Finale
Award
1st – 750 TL
2nd – 500 TL
3rd – 250 TL
Registration
Preregistration has been opened. Preregistration deadline is September 27th 2017 23:59:59. Registration must be finalized on arrival or at least until 09:00 local time on the 30th of September. We would like to remind our guests that preparations are made based on the list of preregistered players. In the unlikely event of demand surpassing projections, preregistering players will have precedence over new comers. The risks and liabilities arising from not registering prior to September 30th 2017 rests solely on the players.
Attention: Preregistration is not equivalent to registering. It is required that preliminary registrants finalize their registration strictly before mentioned deadline.
Since otherwise the proceeding of the tournament schedule will be compromised, participants that do not show up on time on the first day of the tournament without prior notice will be dropped from the tournament.
Registration Fee
| | |
| --- | --- |
| Players that have no pre-registration | ₺40 |
| Players that are pre-registered; but not have membership to a Turkish GO Association | ₺35 |
| Players that are pre-registered, and also have membership to a Turkish GO Association | ₺30 |
| Under 18 age players | ₺10 |
The Results
| # | Name | Rank | Country | City | MMS | SOS | SOSOS | R1 | R2 | R3 | R4 | R5 |
| --- | --- | --- | --- | --- | --- | --- | --- | --- | --- | --- | --- | --- |
| 1 | Ozgur Degirmenci | 4d | TR | Ist | 35 | 164 | 822 | 13+/b0 | 6+/w0 | 11+/b0 | 3+/w0 | 5+/b0 |
| 2 | Birand Adal | 2d | TR | Ank | 34 | 166 | 821 | 5+/w0 | 8+/w0 | 3-/b0 | 10+/b0 | 4+/w0 |
| 3 | Sinan Djepov | 5d | BG | Slvp | 34 | 166 | 815 | 18+/b0 | 4+/w0 | 2+/w0 | 1-/b0 | 9+/w0 |
| 4 | Hakki_Burak Guner | 1d | TR | Ank | 33 | 166 | 818 | 10+/w0 | 3-/b0 | 12+/w0 | 7+/b0 | 2-/b0 |
| 5 | Ali Yesilcimen | 2d | TR | Ist | 33 | 165 | 805 | 2-/b0 | 15+/w0 | 16+/b0 | 11+/w0 | 1-/w0 |
| 6 | Hataycan Ozgur | 1d | TR | Izm | 33 | 163 | 812 | 17+/w0 | 1-/b0 | 7-/b0 | 15+/b0 | 11+/w0 |
| 7 | Caglayan Duman | 1d | TR | Izm | 33 | 163 | 810 | 9-/w0 | 14+/b0 | 6+/w0 | 4-/w0 | 12+/b0 |
| 8 | Kerem Karaerkek | 2d | TR | Ank | 33 | 163 | 809 | 12+/w0 | 2-/b0 | 10-/b0 | 13+/w0 | 14+/b0 |
| 9 | Eren Kurter | 2d | TR | Ank | 33 | 161 | 807 | 7+/b0 | 11-/w0 | 17+/w0 | 21+/w0 | 3-/b0 |
| 10 | Ertug Akkol | 1d | TR | Ist | 33 | 161 | 806 | 4-/b0 | 22+/w0 | 8+/w0 | 2-/w0 | 20+/b0 |
| 11 | Ugur Arikan | 1d | TR | Ank | 32 | 166 | 811 | 14+/w0 | 9+/b0 | 1-/w0 | 5-/b0 | 6-/b0 |
| 12 | Ege Kose | 1d | TR | Mug | 32 | 162 | 815 | 8-/b0 | 13+/w0 | 4-/b0 | 17+/w0 | 7-/w0 |
| 13 | Dogac Kose | 1d | TR | Mug | 32 | 162 | 795 | 1-/w0 | 12-/b0 | 19+/w0 | 8-/b0 | 21+/b0 |
| 14 | Baris_Onur Ors | 1d | TR | Izm | 32 | 158 | 805 | 11-/b0 | 7-/w0 | 22+/w0 | 23+/b0 | 8-/w0 |
| 15 | Ergun Dundar | 1k | TR | Ist | 32 | 158 | 795 | 23+/w0 | 5-/b0 | 18+/b0 | 6-/w0 | 19+/b0 |
| 16 | Erdi Coban | 1k | TR | Izm | 32 | 151 | 783 | 22-/b0 | 30+/w0 | 5-/w0 | 27+/w0 | 17+/b0 |
| 17 | Yigit Akcin | 1d | TR | Ank | 31 | 161 | 795 | 6-/b0 | 18+/w0 | 9-/b0 | 12-/b0 | 16-/w0 |
| 18 | Emre Kovanci | 1d | TR | Ist | 31 | 158 | 796 | 3-/w0 | 17-/b0 | 15-/w0 | 20-/b0 | 22+/b0 |
| 19 | Kemal Gulbudak | 2k | TR | Ist | 31 | 155 | 785 | 20+/w0 | 23+/b0 | 13-/b0 | 22+/w0 | 15-/w0 |
| 20 | Alper Balci | 2k | TR | Ank | 31 | 152 | 772 | 19-/b0 | 26+/b0 | 31+/w0 | 18+/w0 | 10-/w0 |
| 21 | Bogdan Sburlea | 2k | RO | Bucu | 31 | 151 | 771 | 30+/b0 | 27+/w0 | 26+/w0 | 9-/b0 | 13-/w0 |
| 22 | Fatih Kalayoglu | 1k | TR | Ist | 30 | 159 | 783 | 16+/w0 | 10-/b0 | 14-/b0 | 19-/b0 | 18-/w0 |
| 23 | Seval Altug | 1k | TR | Izm | 30 | 154 | 761 | 15-/b0 | 19-/w0 | 28+/b0 | 14-/w0 | 24-/b0 |
| 24 | Berk Aktug | 3k | TR | Ist | 30 | 143 | 742 | 26-/w0 | 28-/b0 | 34+/b0 | 30+/b0 | 23+/w0 |
| 25 | Musa_Burak Erdihan | 3k | TR | Ist | 30 | 141 | 719 | 0= | 31-/b0 | 32+/w0 | 26+/b0 | 28+/w0 |
| 26 | Berkin Gurcan | 3k | TR | Ist | 29 | 150 | 735 | 24+/b0 | 20-/w0 | 21-/b0 | 25-/w0 | 31+/w0 |
| 27 | Doruk Yalgin | 3k | TR | Ist | 29 | 148 | 740 | 31+/w0 | 21-/b0 | 30+/w0 | 16-/b0 | 29-/b0 |
| 28 | Fatih Ozcelik | 4k | TR | Ist | 29 | 147 | 726 | 29+/b0 | 24+/w0 | 23-/w0 | 31+/b0 | 25-/b0 |
| 29 | Orhan Ozeler | 4k | TR | Ist | 29 | 140 | 709 | 28-/w0 | 34-/b0 | 33+/b0 | 35+/b0 | 27+/w0 |
| 30 | Saadet Eryilmaz | 2k | TR | Ist | 28 | 150 | 733 | 21-/w0 | 16-/b0 | 27-/b0 | 24-/w0 | 0= |
| 31 | Batuhan Ozturk | 3k | TR | Ist | 28 | 148 | 738 | 27-/b0 | 25+/w0 | 20-/b0 | 28-/w0 | 26-/b0 |
| 32 | Ali_Kemal Uygun | 5k | TR | Ist | 28 | 139 | 685 | 35+/w0 | 33-/b0 | 25-/b0 | 36+/b0 | 34+/w0 |
| 33 | Ulas Misirlioglu | 6k | TR | Ist | 28 | 138 | 685 | 37+/b0 | 32+/w0 | 29-/w0 | 34+/w0 | 35+/b0 |
| 34 | Berat Onder | 5k | TR | Ist | 27 | 141 | 690 | 38+/b0 | 29+/w0 | 24-/w0 | 33-/b0 | 32-/b0 |
| 35 | Senem Celikkol | 5k | TR | Izm | 27 | 135 | 678 | 32-/b0 | 40+/w0 | 41+/b0 | 29-/w0 | 33-/w0 |
| 36 | Gozde Gokalp | 7k | TR | Ank | 27 | 130 | 656 | 39+/b0 | 41+/w0 | 40+/b0 | 32-/w0 | 38+/b0 |
| 37 | Omer_Saim Suzer | 7k | TR | Ank | 27 | 130 | 655 | 33-/w0 | 38+/b0 | 39+/w0 | 41+/b0 | 40+/b0 |
| 38 | Zeynel_Bilge Goze | 6k | TR | Ist | 26 | 130 | 656 | 34-/w0 | 37-/w0 | 43+/b0 | 40+/b0 | 36-/w0 |
| 39 | Mehmet_Salim Turgut | 6k | TR | Ist | 26 | 126 | 628 | 36-/w0 | 44-/w0 | 37-/b0 | 43+/w0 | 45+/b0 |
| 40 | Serap Suleymanoglu | 6k | TR | Ist | 25 | 131 | 648 | 44+/b0 | 35-/b0 | 36-/w0 | 38-/w0 | 37-/w0 |
| 41 | Hande Olgar | 6k | TR | Ist | 25 | 130 | 634 | 43+/b0 | 36-/b0 | 35-/w0 | 37-/w0 | 42-/w0 |
| 42 | Alican Oral | 9k | TR | Ist | 25 | 115 | 593 | 45+/b0 | 52+/w0 | 44+/w0 | 0= | 41+/b0 |
| 43 | Bora Zafer | 7k | TR | Ant | 24 | 124 | 622 | 41-/w0 | 45+/b0 | 38-/w0 | 39-/b0 | 0= |
| 44 | Elif Yeke | 7k | TR | Izm | 24 | 123 | 608 | 40-/w0 | 39+/b0 | 42-/b0 | 45-/w0 | 0= |
| 45 | Umut Kahraman | 8k | TR | Ist | 24 | 121 | 600 | 42-/w0 | 43-/w0 | 49+/b0 | 44+/b0 | 39-/w0 |
| 46 | Ozan Kasikci | 11k | TR | Ist | 24 | 107 | 544 | 50+/w0 | 56+/b0 | 52+/b0 | 49+/w0 | 51+/w0 |
| 47 | Servet Dasdemir | 12k | TR | Mus | 23 | 103 | 530 | 53+/b0 | 57+/w0 | 55+/w0 | 52+/b0 | 54+/b0 |
| 48 | Eren Orhon | 10k | TR | Ist | 23 | 102 | 512 | 0= | 0= | 0= | 0= | 49+/w0 |
| 49 | Gulnihal Dursun | 10k | TR | Mer | 22 | 112 | 544 | 56+/b0 | 54+/w0 | 45-/w0 | 46-/b0 | 48-/b0 |
| 50 | Cagla_Sena Temelli | 11k | TR | Ist | 22 | 105 | 517 | 46-/b0 | 51-/w0 | 59+/w0 | 56+/w0 | 53+/b0 |
| 51 | Leyla_Eylem Incedursun | 12k | TR | Ist | 22 | 105 | 514 | 60+/w0 | 50+/b0 | 54+/b0 | 53+/w0 | 46-/b0 |
| 52 | Firat Dulger | 10k | TR | Ist | 21 | 114 | 535 | 54+/b0 | 42-/b0 | 46-/w0 | 47-/w0 | 55-/b0 |
| 53 | Said Sarac | 11k | TR | Ist | 21 | 108 | 525 | 47-/w0 | 55+/b0 | 56+/w0 | 51-/b0 | 50-/w0 |
| 54 | Fatih Bikmaz | 10k | TR | Ist | 21 | 106 | 524 | 52-/w0 | 49-/b0 | 51-/w0 | 58+/b0 | 47-/w0 |
| 55 | Ceyda Alemdaroglu | 10k | TR | Ist | 21 | 104 | 523 | 0= | 53-/w0 | 47-/b0 | 57-/b0 | 52+/w0 |
| 56 | Cem Usmangil | 10k | TR | Ist | 20 | 108 | 530 | 49-/w0 | 46-/w0 | 53-/b0 | 50-/b0 | 57-/b0 |
| 57 | Ufuk Aktas | 15k | TR | Ist | 19 | 98 | 490 | 58+/w0 | 47-/b0 | 65+/b0 | 55+/w0 | 56+/w0 |
| 58 | Sinan Cervatoglu | 15k | TR | Ist | 18 | 90 | 455 | 57-/b0 | 66+/w0 | 62+/w0 | 54-/w0 | 61+/b0 |
| 59 | Mehmet_Cemal Caylak | 16k | TR | Ist | 18 | 89 | 440 | 61+/w0 | 60+/b0 | 50-/b0 | 68+/w0 | 62+/b0 |
| 60 | Safak Yildiz | 15k | TR | Ank | 17 | 88 | 430 | 51-/b0 | 59-/w0 | 72+/w0 | 61-/b0 | 69+/w0 |
| 61 | Serif Goktas | 16k | TR | Ist | 17 | 85 | 425 | 59-/b0 | 68+/w0 | 67+/b0 | 60+/w0 | 58-/w0 |
| 62 | Ummuhan_Sevval Akbas | 16k | TR | Ist | 17 | 83 | 422 | 75+/b0 | 65+/w0 | 58-/b0 | 63+/w0 | 59-/w0 |
| 63 | Mehmet_Selim Birben | 17k | TR | Ist | 17 | 81 | 410 | 71+/b0 | 64+/b0 | 66+/w0 | 62-/b0 | 65+/w0 |
| 64 | Mehmet_Ali Goktas | 16k | TR | Ist | 17 | 80 | 407 | 65-/b0 | 63-/w0 | 71+/b0 | 67+/w0 | 66+/w0 |
| 65 | Yusuf Altintas | 16k | TR | Ist | 16 | 85 | 421 | 64+/w0 | 62-/b0 | 57-/w0 | 71+/b0 | 63-/b0 |
| 66 | Sule_Yusra Sevindik | 16k | TR | Ist | 16 | 83 | 406 | 67+/w0 | 58-/b0 | 63-/b0 | 73+/w0 | 64-/b0 |
| 67 | Anil Kaygusuz | 16k | TR | Ist | 16 | 79 | 401 | 66-/b0 | 75+/w0 | 61-/w0 | 64-/b0 | 73+/w0 |
| 68 | Bugra Yalcin | 17k | TR | Ist | 16 | 79 | 401 | 73+/w0 | 61-/b0 | 76+/b0 | 59-/b0 | 72+/w0 |
| 69 | Melis Ciger | 16k | TR | Ist | 16 | 73 | 368 | 0= | 0= | 0= | 0= | 60-/b0 |
| 70 | Hakan Erkan | 18k | TR | Ist | 16 | 73 | 368 | 72+/b0 | 71-/w0 | 78+/w0 | 74+/b0 | 79+/w0 |
| 71 | Bengisu Sari | 17k | TR | Ist | 15 | 79 | 380 | 63-/w0 | 70+/b0 | 64-/w0 | 65-/w0 | 83+/b0 |
| 72 | Arda Kafali | 17k | TR | Ist | 15 | 78 | 390 | 70-/w0 | 74+/w0 | 60-/b0 | 75+/b0 | 68-/b0 |
| 73 | Mehmet Buber | 17k | TR | Ist | 15 | 76 | 389 | 68-/b0 | 77+/w0 | 75+/w0 | 66-/b0 | 67-/b0 |
| 74 | Kadir_Emre Sengul | 18k | TR | Ist | 15 | 73 | 365 | 78+/w0 | 72-/b0 | 77+/b0 | 70-/w0 | 76+/w0 |
| 75 | Koray Demir | 16k | TR | Ist | 14 | 77 | 386 | 62-/w0 | 67-/b0 | 73-/b0 | 72-/w0 | 0= |
| 76 | Ceyda_Senem Yigit | 18k | TR | Ist | 14 | 73 | 352 | 77-/b0 | 80+/w0 | 68-/w0 | 78+/b0 | 74-/b0 |
| 77 | Muhammed Celik | 18k | TR | Ist | 14 | 71 | 355 | 76+/w0 | 73-/b0 | 74-/w0 | 79-/b0 | 81+/b0 |
| 78 | Ismail_Tansu Tunali | 18k | TR | Brt | 14 | 70 | 345 | 74-/b0 | 82+/w0 | 70-/b0 | 76-/w0 | 84+/b0 |
| 79 | Selman Konak | 20k | TR | Ist | 14 | 68 | 328 | 81+/b0 | 86+/w0 | 82+/b0 | 77+/w0 | 70-/b0 |
| 80 | Arda Palabiyik | 20k | TR | Ist | 14 | 59 | 306 | 84+/w0 | 76-/b0 | 87+/w0 | 85+/b0 | 0 |
| 81 | Abdulkadir Ozduman | 20k | TR | Ist | 13 | 65 | 326 | 79-/w0 | 84+/b0 | 85+/b0 | 82+/b0 | 77-/w0 |
| 82 | Cihan Safak | 19k | TR | Ist | 13 | 64 | 325 | 83+/b0 | 78-/b0 | 79-/w0 | 81-/w0 | 88+/b0 |
| 83 | Emre Cabi | 19k | TR | Ist | 13 | 61 | 320 | 82-/w0 | 85+/b0 | 0= | 88+/w0 | 71-/w0 |
| 84 | Zeynep_Yaren Gumus | 20k | TR | Ist | 12 | 62 | 315 | 80-/b0 | 81-/w0 | 88+/b0 | 87+/b0 | 78-/w0 |
| 85 | Zehra Alper | 20k | TR | Ist | 12 | 61 | 306 | 88+/b0 | 83-/w0 | 81-/w0 | 80-/w0 | 87+/b0 |
| 86 | Atilla_Han Civek | 20k | TR | Ist | 12 | 55 | 278 | 87+/w0 | 79-/b0 | 0= | 0= | 0= |
| 87 | Umut_Baris Ay | 20k | TR | Ist | 11 | 60 | 298 | 86-/b0 | 88+/w0 | 80-/b0 | 84-/w0 | 85-/w0 |
| 88 | Yahya_Adnan Karabulut | 20k | TR | Ist | 10 | 61 | 308 | 85-/w0 | 87-/b0 | 84-/w0 | 83-/b0 | 82-/w0 |